PRE-ORDER YOUR CHRISTMAS VEG BOXES NOW
For the Workplace
33 Piece Fruit Box

50 Piece Fruit Box

80 Piece Fruit Box
Office fruit box offer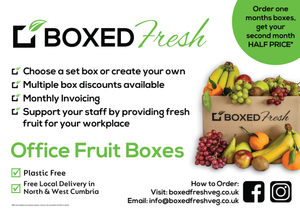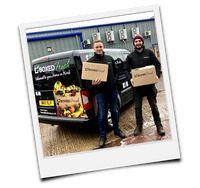 ABOUT US
Boxed Fresh are a PLASTIC FREE Fruit and Veg box local delivery service covering Carlisle and the surrounding area - taking the hassle out of eating healthy!
We deliver fresh fruit boxes to workplaces around the area, keeping your workforce healthy and motivated throughout the day. We also offer weekly veg boxes for delivery to your home. We offer a range of different size boxes to suit your needs. 
Take a look at our product pages below for more information.
Order Now
Testimonials
Our bin was always full of single use packaging when we used the supermarket, I'm so pleased that there is virtually nothing now.

⭐⭐⭐⭐⭐

Kirsty
I've been using you since all this began and my goodness the quality and freshness of the fruit and veg is amazing. I love our boxes, it means I can make loads of fresh healthy meals.

⭐⭐⭐⭐⭐

Emma
I've continued using you and will do so after this second lockdown. The quality and price is fantastic. Our little family love it.

⭐⭐⭐⭐⭐

Mel
Thank you for my lovely fresh fruit, veg and salad box with extras. It all looks lovely and I cant wait to get stuck in to it all. Only ordered it online yesterday afternoon, quick service.

⭐⭐⭐⭐⭐

Lesley
There is absolutely no plastic in sight, cardboard box and brown paper bags. Takes me back!

⭐⭐⭐⭐⭐

Alan and Janet
Boxed Fresh are brilliant.

⭐⭐⭐⭐⭐

Judith
We're so happy to be able to buy fruit and veg without all the unnecessary plastic packaging.

⭐⭐⭐⭐⭐

Tim & Nicole
Amazing service and quality foods!! And the pumpkins I received today were outstanding. My son is loving carving pictures in them.

⭐⭐⭐⭐⭐

Jude
I have used Boxed Fresh since March and love my box of really fresh produce... Brilliant service and I cant see a reason not to keep looking forward to getting my box.

⭐⭐⭐⭐⭐

Cathy